Co-Working in the Cedar Valley
Creative Collaboration Through Co-Working Spaces
As the COVID-19 pandemic swept through the United States, the number of people working from home increased significantly. Working from home has become a trend with many businesses in the Cedar Valley. Because of this, we were all forced to find creative ways to stay productive during these times of uncertainty. Especially with our new co-workers at home, it can be difficult to stay productive.
What is a Co-Working space?
Co-working spaces are available offices that are available to rent out depending on the duration of your stay. Most co-working spaces have private office space, conference rooms, and high-speed internet. Having a space like this is proven to increase productivity and collaboration.
What are the benefits?
Co-working spaces have many benefits. Abigail Laughride from Waterloo Workspace says "It is important to have a shared worked environment, especially during a time like this. Ever since COVID-19 hit, businesses and individuals had to figure out a new meaning for office space. Whether that meant working from home or finding an office to rent out because you could not use your office in the corporate building."
Having a co-working space is important because it allows people to connect, collaborate, and feel connected to the community. Not only are there many available physical amenities like private office space and high-speed internet access, but it is also designed to encourage collaboration among similarly-minded individuals and entrepreneurs (Megan Baltes, New Hampton Municipal Utilities).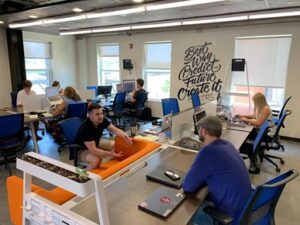 Gravitate Coworking in Cedar Falls, IA
Are there spaces in the Cedar Valley?
There are about four co-working spaces in the Cedar Valley. These four spaces include New Hampton Municipal Utilities in New Hampton, IA, Waterloo Workspace in Waterloo, IA, CoWork591 in Jessup, IA, and Gravitate Coworking in Cedar Falls, IA. Although these facilities are all different, they all provide similar amenities such as day passes, monthly memberships, private offices, shared spaces, and conference rooms. The goal of each of these co-working spaces is to promote collaboration and productivity in the Cedar Valley.
Kelly Seehase from CoWork591 says "While networking and collaborating with others is important, in our current times, we have found people are in most need of a community. Our biggest hurdle is getting people to realize that they can be very productive when working in a co-working space and that they will get so much done here without the distractions they would have at home. Our members are proof of that."