Set Apart By Great People
Everyone has a story to tell - ours is a story about how we fell in love with where we live, because of those who call the Cedar Valley home.
Scroll Down to meet our great people.
Culture, Heritage, Interests, and Passions
We are Uniquely Individual, and Darn Proud of it
In the Cedar Valley, you'll find people who are driven, genuine, and caring. People who live with purpose and find new ways to create, experience, and do things that matter. People who come to the aid of their neighbors, volunteer with youth and the elderly, and plan community events for everyone to enjoy.
Find your people in the Cedar Valley
We sat down with a couple of business owners in the Cedar Valley, and they shared their own experiences living here!
"All these different colors, all these different flavors in one bowl make for a great breakfast!

Nia Wilder

ShinDigg Productions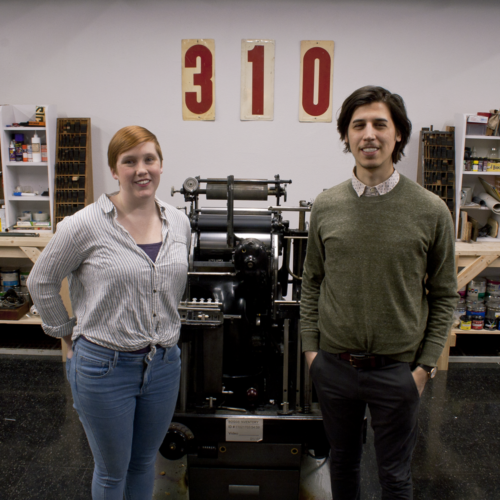 Brandon and Annie recently returned to the Cedar Valley in 2017. Annie grew up in Cedar Falls and Brandon moved to Cedar Falls during their high school years. They met then and have been together ever since!
After high school, Brandon and Annie studied graphic design at Iowa State University.
After getting their degrees, they pursued opportunities out of state. They both found jobs and lived in The Twin Cities. First in Minneapolis, and then most recently in St. Paul. After spending some time there, they moved back to the Cedar Valley.
They came back because they wanted to be close to family. They also had the dream to open their own print shop and design studio. They were excited to see the "...growth happening in downtown Waterloo," they added that "...it seemed like the time and place were right to get started."
So they did! They opened Pretty Good Co., a letterpress print shop, design studio and creative retailer located in downtown Waterloo.
"We are really impressed with the creative community in the area," they said. "The reception for Pretty Good Co. has been warm and welcoming and we've found an amazing group of designers and artists at events like the monthly Drink & Draw in downtown Cedar Falls." says Brandon.
They are just as busy outside of their studio as they are within. They have always been very active in the Cedar Valley - not skipping an Iowa Irish Fest for 13 years. The Iowa Irish Fest is an annual event dedicated to celebrating Irish culture in Iowa which takes place in downtown Waterloo.
Brandon shares, "Annie has a large and enthusiastic Irish family so the Iowa Irish Fest has become an annual tradition for us to bring everyone together for celebration and camaraderie."
He adds, "This last year, we've also joined the Iowa Irish Fest Committee of volunteers."
They also shared that they really enjoy spending time, "...kayaking Big Woods lake during the summer and visiting local breweries."
We are very grateful to have the Alvarados in the Cedar Valley and appreciate them taking the time to share their story!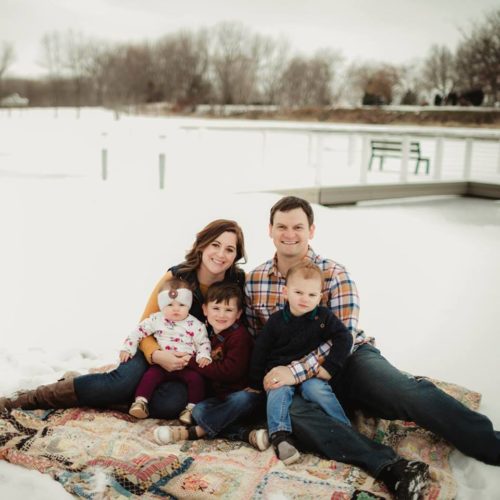 When Nick and I were given the opportunity to purchase a dental practice in New Hampton and move back to our hometown, we were both overjoyed. We knew that this was going to be a great place to own a business and to raise our family.
Our community has been so supportive of our small business. From the very first day we purchased the dental practice, we have felt that New Hampton encouraged and welcomed us back into the community. Our hardworking staff really cares about our patients, as many of our patients are also our neighbors and friends. Our patients know they can trust us to do the best quality care. Through our practice, we have made countless connections with people in the community, and those connections mean so much to us.
We also couldn't ask for a better place to raise our kids. We have a four-year-old, a two-year old and a ten month old. There are so many awesome resources for our kids here in New Hampton. We have an amazing park with an updated pool that has a splash pad for our little ones. We have a school district that puts kids first and is in the process of building a new middle school. We have a library that has a very engaging and interactive story time every Wednesday morning for our young kids. We have a clinic with doctors who truly care about our children. There are tons of activities for our kids to be involved in, whether through our Park and Rec department, our church, or other community groups. Our kids feel safe and welcomed everywhere we go.
The relationships that we have built in New Hampton are irreplaceable. When we are out and about in our community, we know that we don't just live or work in New Hampton, we are a part of New Hampton. We wouldn't want to live anywhere else!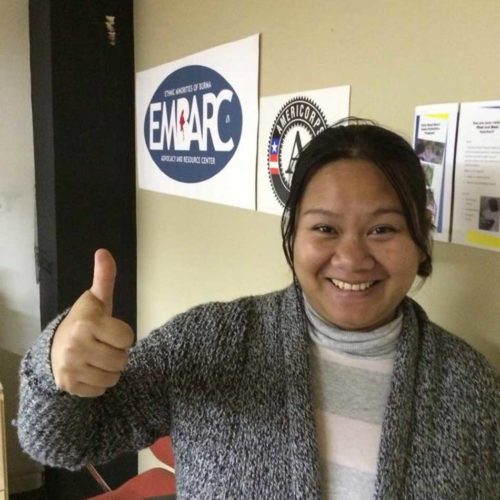 Ah-Lei is a Karen Burmese refugee who aspires to open her own restaurant in Waterloo. She fled Burma in 1999, leaving behind a war-torn country in search of a better life. Ah-Lei moved around Southern Asia teaching herself to cook along the way, developing her own unique style reflecting her journey.
In 2013, Ah-Lei relocated to Waterloo with the help of EMBARC (Ethnic Minorities of Burma Advocacy and Resource Center). She enjoys living in the Cedar Valley because she knows there are possibilities for her family that would not have been possible in Burma, especially education and promising jobs.
Ah-lei recently had the opportunity to wow the public with her unique cuisine which was showcased at a pop-up event hosted by Sidecar Coffee and EMBARC in Waterloo. Ah-lei's incredible food was entirely sold out in two hours, with enormously positive feedback from the community. Eventually, she would love to open her own restaurant, where she can share her culinary delights with the Cedar Valley.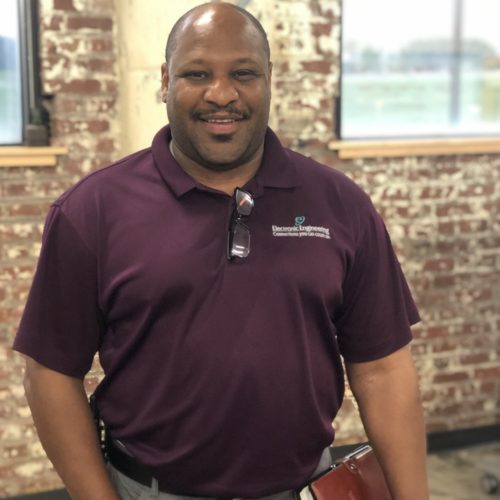 Ted was born in New York and was raised in the Cedar Valley, since 1971, attending Central High School in Waterloo, IA and then attended college from Wartburg, "Go Knights!"
After working at Copyworks for a few years he had an opportunity to move to Atlanta, GA, and work for the 1996 Olympics. After, he spent 16 Years in Chicago in management at companies such as Motorola, Ikon, Lanier, Innerworkings, Groupon and Canon, and ADVO before finding his way back home to the Cedar Valley in 2012. "It just feels like home to me, the people, the surroundings, and I had a great opportunity to return and plant some roots," he says.
For the last couple of years, Ted has been the Waterloo Branch Manager for Electronic Engineering - providing wireless communication solutions for schools, universities and rescue personnel, hi-def camera systems and GPS and other electronic solutions.
Outside of work, Ted enjoys returning to Wartburg to watch football games as well as spending time at the Waterloo Elks Club, a civic organization that looks to be an active member in the community – providing the manpower and fundraising on hundreds of projects that develop and benefit the Cedar Valley community.
In the Summer, Ted loves attending the Irish Fest. He's a self-proclaimed "social butterfly" and enjoys the atmosphere of those events. He also enjoys spending time at local bars; enjoying entertainment as well as live music which thrives in the Cedar Valley.
Ted loves the Cedar Valley and is most surprised and pleased with "...the growth (he) sees happening all around with existing companies adding to their business, as well as new businesses opening both large and small."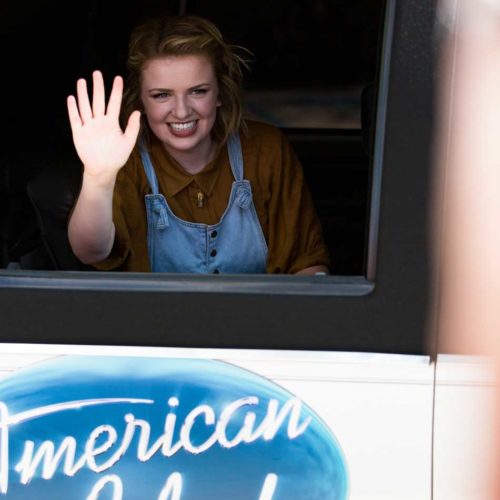 "It's not common for people from small town Iowa to pursue careers in the entertainment industry, and even though that dream seemed so out of reach for me for so long, community members have always stayed behind me one hundred percent," says Maddie Poppe, recent Season 16 winner of the hit ABC show American Idol.
The young Iowa star has, in only a few short weeks, showcased to the entire United States the humble and genuine demeanor of growing up and living here in the Cedar Valley.
For the past four years, this Hawkeye Community College student has performed hundreds of times in front of small crowds in every coffee shop, book store, county fair, even singing for those who participated in RAGBRAI (Register's Annual Great Bike Race Across Iowa). RABGRAI, a non-competitive bicycle ride, goes across the state of Iowa. RAGBRAI is the largest bike-touring event in the world.
Maddie's broad appeal comes thanks to her amazing ability to pick great songs, but also her grounded, and somewhat quirky personality. The Clarksville native credits her success on the atmosphere that she was raised in.
"I truly appreciate life in small towns. I think something that helped me in this contest was that I could relate to most of America simply by growing up where I did. They are truly the kindest, most down to earth people you'll ever come across, and that's something I didn't realize until I was stuck in Los Angeles for five months. The crew of American Idol couldn't believe how kind and generous everyone was at my hometown visit and it really opened my eyes to just how amazing the people in the Cedar Valley are," says Maddie.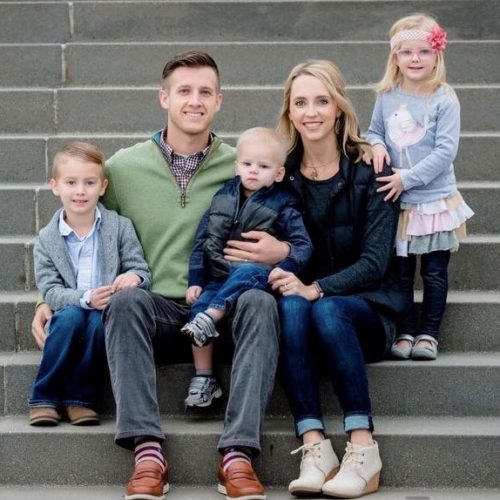 Alex was born in Iowa and grew up on a farm in Williams which is about an hour west of Cedar Falls. Alex attended the University of Northern Iowa (UNI) where he met his wife, Blake. "UNI is what showed us how great of a community the Cedar Valley is. Before that, we had no familiarity with the area." Alex shares.
Alex stayed in the Cedar Valley for several reasons. Alex had the "...opportunity to grow a financial planning practice with one of his best friends, Brandon Pedersen. He has been a Financial Consultant with the Midwest Group - Thrivent Financial for 8 years now. Alex continues, "My wife and I have three children and our family loves to go on bike rides and of course, visit Lost Island," which is, "without a doubt (his) favorite family activity." We are very fortunate to have such a great waterpark in our community.
We couldn't be happier to raise our family here. We are blessed to have found Bethany Bible Chapel early after our move to the Cedar Valley. That is a huge part. Also, the people in the Cedar Valley are great. It is a family-friendly community with the amenities of a larger community such as Des Moines."
We asked Alex about some more of his favorite places in the Cedar Valley, and he shared that his family loves, "Montage, Peppers, Lost Island, all the bike trails, Cedar Falls Rec Center, and we enjoy walking around downtown Cedar Falls on Main Street. We feel fortunate to have such a nice downtown. I am very thankful to have a wide range of options to consider when our family is looking for something fun or different to do."
Why we're proud of where we live
Sign-up to receive more information about the Cedar Valley!