Set Apart By Great People
Everyone has a story to tell - ours is a story about how we fell in love with where we live because of those who call the Cedar Valley home.
Scroll Down to meet our great people.
Culture, Heritage, Interests, and Passions
We are Uniquely Individual, and Darn Proud of it
In the Cedar Valley, you'll find people who are driven, genuine, and caring. People who live with purpose and find new ways to create, experience, and do things that matter. People who come to the aid of their neighbors, volunteer with youth and the elderly, and plan community events for everyone to enjoy.
Some of our neighbors shared why they chose to live here!
Select their picture to read their story.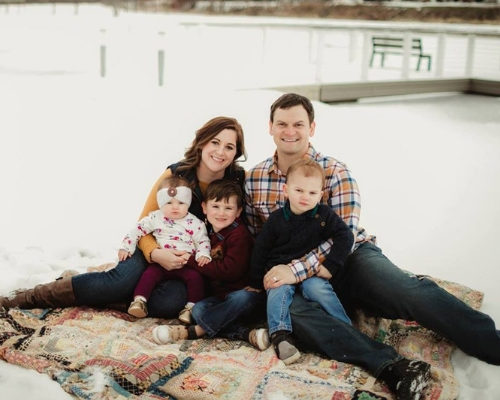 When Nick and I were given the opportunity to purchase a dental practice in New Hampton and move back to our hometown, we were both overjoyed. We knew that this was going to be a great place to own a business and to raise our family.
Our community has been so supportive of our small business. From the very first day we purchased the dental practice, we have felt that New Hampton encouraged and welcomed us back into the community. Our hardworking staff really cares about our patients, as many of our patients are also our neighbors and friends. Our patients know they can trust us to do the best quality care. Through our practice, we have made countless connections with people in the community, and those connections mean so much to us.
We also couldn't ask for a better place to raise our kids. We have a four-year-old, a two-year old and a ten month old. There are so many awesome resources for our kids here in New Hampton. We have an amazing park with an updated pool that has a splash pad for our little ones. We have a school district that puts kids first and is in the process of building a new middle school. We have a library that has a very engaging and interactive story time every Wednesday morning for our young kids. We have a clinic with doctors who truly care about our children. There are tons of activities for our kids to be involved in, whether through our Park and Rec department, our church, or other community groups. Our kids feel safe and welcomed everywhere we go.
The relationships that we have built in New Hampton are irreplaceable. When we are out and about in our community, we know that we don't just live or work in New Hampton, we are a part of New Hampton. We wouldn't want to live anywhere else!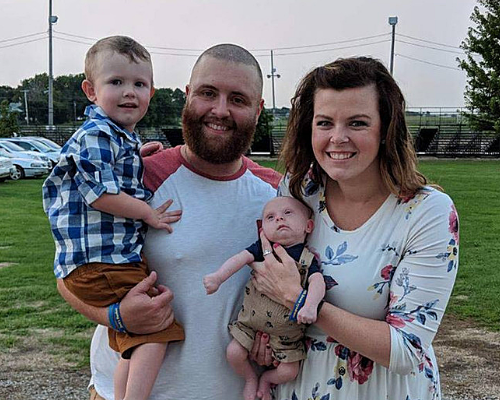 When I was in high school, I was among those that always said "I can't wait to get out of this town." Well, I'm 28 years old now and can tell you this is exactly where I want to be! My husband and I just brought home our newborn and although things didn't quite go as we planned as we learned he has Down's Syndrome, we brought home a perfect baby boy and couldn't be prouder.
We've had many friends that live outside our community ask us if we feel that we could still raise him here in New Hampton and our response was "Duh!" More than ever before are we so thrilled to raise our family in this community. Our son was hospitalized for 20 days and we had people in our community reach out to us to see if we needed anything; just let us know they are thinking of us and praying for us. Some of these people we don't even know or have never talked to them before! That truly says a lot about the people that live down your street. It's amazing to see how everyone comes together for one family.
Sure, word can travel fast in a small town but it's also a benefit as well! They say it takes a village to raise a child, and even though our boys are 3 years old and a newborn, we have utilized our village on multiple occasions and don't know where we'd be without them. I've never been more proud to say I live in this small town that has so much to offer our family. I can't wait to watch our children grow up here and see how our village molds our children's personalities.
So if you're reading this and you're from New Hampton, thank you for being here and helping our family and making this such a beautiful town to grow up in. And if you're reading this and you've never lived here, you're missing out on little ole New Hampton. It's a beautiful place and keeps getting better!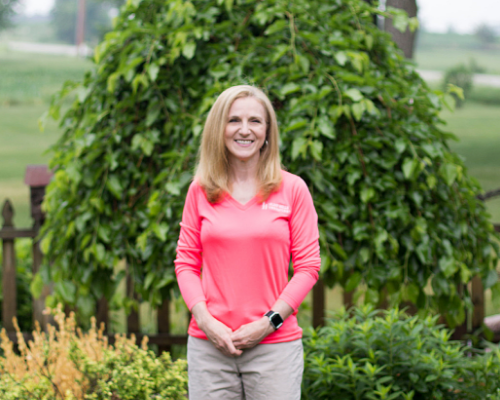 My father was a high school science teacher so he instilled in me a love of science and nature. In fact, my car license plate is a UNI plate that states "N8ture". That's is Kristin Clay's "Why" for a work-life balance on an acreage outside of New Hartford she shares with her husband Scot. While Kristin grew up in Clarksville, she considers the entire Cedar Valley as her "hometown".
Kristin didn't plan on staying in the Cedar Valley after graduation but a job at an environmental laboratory kept her here and has since given her other opportunities for professional growth to stay in the Cedar Valley. Kristin is the Senior Process Engineer for Flint Hills Resources Biofuels and Ingredients. Flint Hills supports Kristin's passion for getting girls excited about STEM subjects by sponsoring many Girls in Science events at the Science Center of Iowa.
When Kristin isn't working or volunteering she professes to be a big UNI Panther fan! "As my friends and family will tell you I live and breathe purple", Kristen joked. "I'm also avid gardener and nature lover", she added. Kristin and Scot's 3-acre acreage constitute their "second jobs" when we get home from work!
The restaurant choices in the Cedar Valley are always adding new and unique options for the Clays. They both are craft beer connoisseurs and truly appreciate the unique offerings as well. It can be a full evening out for the Clays. The couple attends at least 6 shows every year at the Gallagher Bluedorn Performing Arts Center. "We appreciate having this gem in our backyard for satisfying our cultural cravings," she said.
The Clays also take advantage of the outdoors by enjoying "lots" of places for kayaking including Shell Rock, Cedar Rivers, and George Wyth Lakes as well as the many trails for hiking. "My husband is an off-road motorcyclist and loves that we have an off-road park specifically built for this purpose at Mitchell Pits in Waterloo. That attracts "dirt bikers" from all over the state", said Kristin.
"Throughout our careers, my husband and I have discussed moving away from the Cedar Valley several times. However, each time we start to look for careers outside the Cedar Valley, we realize we have everything we love right here and don't know why we would leave" Kristin muses.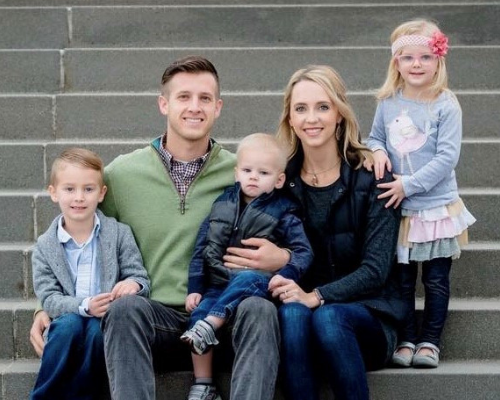 Alex Renaud was born in Iowa and grew up on a farm in Williams which is about an hour west of Cedar Falls. Alex attended the University of Northern Iowa (UNI) where he met his wife, Blake. ``UNI is what showed us how great of a community the Cedar Valley is. Before that, we had no familiarity with the area.`` Alex shares.
Alex stayed in the Cedar Valley for several reasons. Alex had the ``...opportunity to grow a financial planning practice with one of his best friends, Brandon Pedersen. He has been a Financial Consultant with the Midwest Group - Thrivent Financial for 8 years now. Alex continues, ``My wife and I have three children and our family loves to go on bike rides and of course, visit Lost Island,`` which is, ``without a doubt (his) favorite family activity.`` We are very fortunate to have such a great waterpark in our community.
We couldn't be happier to raise our family here. We are blessed to have found Bethany Bible Chapel early after our move to the Cedar Valley. That is a huge part. Also, the people in the Cedar Valley are great. It is a family-friendly community with the amenities of a larger community such as Des Moines.``
We asked Alex about some more of his favorite places in the Cedar Valley, and he shared that his family loves, ``Montage, Peppers, Lost Island, all the bike trails, Cedar Falls Rec Center, and we enjoy walking around downtown Cedar Falls on Main Street. We feel fortunate to have such a nice downtown. I am very thankful to have a wide range of options to consider when our family is looking for something fun or different to do.``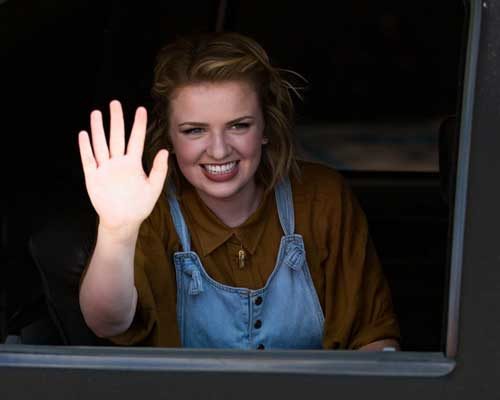 "It's not common for people from small town Iowa to pursue careers in the entertainment industry, and even though that dream seemed so out of reach for me for so long, community members have always stayed behind me one hundred percent," says Maddie Poppe, recent Season 16 winner of the hit ABC show American Idol.
The young Iowa star has, in only a few short weeks, showcased to the entire United States the humble and genuine demeanor of growing up and living here in the Cedar Valley.
For the past four years, this Hawkeye Community College student has performed hundreds of times in front of small crowds in every coffee shop, book store, county fair, even singing for those who participated in RAGBRAI (Register's Annual Great Bike Race Across Iowa). RABGRAI, a non-competitive bicycle ride, goes across the state of Iowa. RAGBRAI is the largest bike-touring event in the world.
Maddie's broad appeal comes thanks to her amazing ability to pick great songs, but also her grounded, and somewhat quirky personality. The Clarksville native credits her success on the atmosphere that she was raised in.
"I truly appreciate life in small towns. I think something that helped me in this contest was that I could relate to most of America simply by growing up where I did. They are truly the kindest, most down to earth people you'll ever come across, and that's something I didn't realize until I was stuck in Los Angeles for five months. The crew of American Idol couldn't believe how kind and generous everyone was at my hometown visit and it really opened my eyes to just how amazing the people in the Cedar Valley are," says Maddie.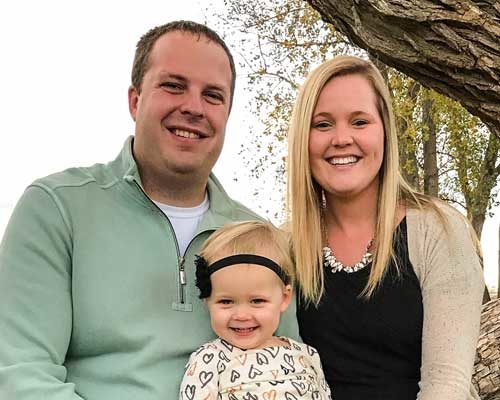 Ashley Johnson was born and raised in Cedar Falls, graduated from Cedar Falls High School, and received her Bachelor's Degree in Economics from UNI. Following graduation, she and her husband Spencer moved to Nashville, TN so she could pursue a graduate degree in Sports Administration at Belmont University.
They then made the move to Orlando, FL where she worked for a few years. While in Florida, they decided that it was not where they wanted to raise a family and decided to move back to Cedar Falls in the Summer of 2016.
Ashley values the quality schools in the area, from the elementary level all the way up to collegiate with UNI. She also said that "the Cedar Valley's proximity to Minneapolis, Chicago and Kansas City is also great and allows us to easily travel to other parts of the country or around the world." In the end, they love the culture and people of the Midwest. Ashley says she want her children to grow up with the same Midwestern values that she grew up with and cherish.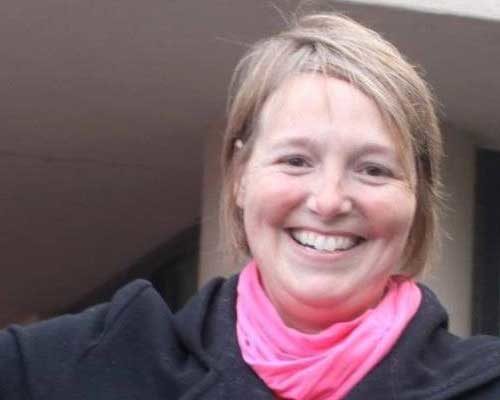 Gabbi DeWitt lives, works, and plays across the Cedar Valley. Gabbi lives in Cedar Falls enjoying its conveniences and wide array of entertainment and recreational options. She loves the sense of community the Cedar Valley provides, running into a familiar face wherever she goes. Her work as Health Educator at the Black Hawk County Health Department impacts a large section of the Cedar Valley where she opens the door of opportunity for those in need, helping them access potentially life-saving cancer screenings. Gabbi is a member of the Beyond Pink TEAM and the Pink Ribbon Run committee. She facilitates TEAM marketing and ensures the public knows of the advocacy, support and fundraising initiatives in the metro and Cedar Valley communities like Waverly and Hudson. In her free time, you are likely to find Gabbi catching up with friends on Main Street, exploring the vast Cedar Valley recreational trails with her dog Farley, or enjoying a stage production at one of many local theatre venues with her daughter. Her family enjoys cheering on UNI with their purple and gold second family, Panther Fans.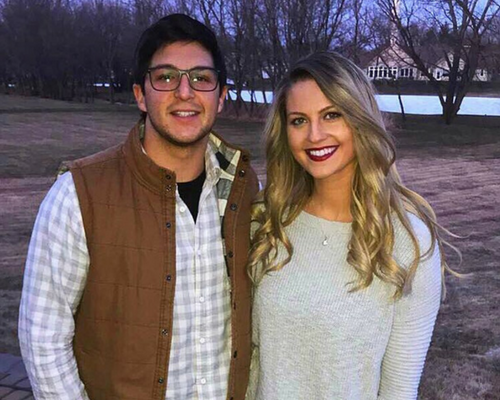 A pretty typical small town boy was brought back home when Andy Hugeback moved back to New Hampton after finishing his mortuary science degree at the University of Iowa and DMACC. He grew up there working at his family's business, Hugeback-Johnson Funeral Home & Crematory, so it only made sense that's where he would end up.
"I loved growing up here, why would I want to be anywhere else?"
After his then girlfriend, now fiancé, Hayley Drewelow (also a New Hampton native) moved back to New Hampton when she finished her teaching degree at UNI, the couple knew it would be a forever home.
Hugeback continues, "Working with my family and being a funeral director in a small town like NH has been a dream come true. We get to be involved in the community in many ways including volunteering at church, the school and many other fun activities that are going on around town."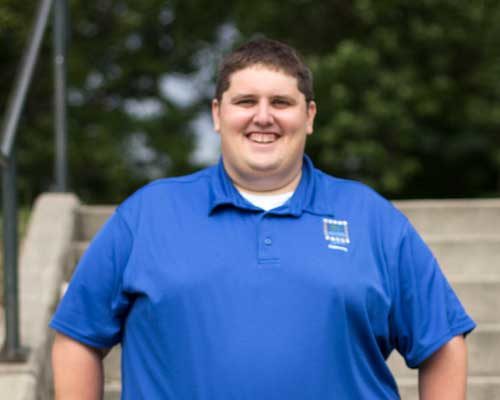 It was an unusual and unforeseen series of events that led Matt Tolan of Cedar Falls on a path from Iowa to Arizona after graduating from high school. Having contracted Lyme Disease from a tick bite while on a wilderness trip to the Boundary Waters in Minnesota, Matt's plans to attend the University of Iowa were altered when his medical condition required him to take a year off college for treatment and recovery.
Upon successful treatment and with restored health and a renewed sense of adventure, Matt made the decision to transfer to Arizona State University to finish his education, graduating with a degree in Civil Engineering.
Matt's fiance Leslie, also a Waverly native and Wartburg College graduate, joined him in Arizona and they soon found work there. However, the location didn't suit them. "We worked constantly and although there were a lot of things to do in Scottsdale, we found we could do the same work and even more activities by moving back to the Cedar Valley."
So, they did!
"Leslie and I moved back with our dog Nala in 2017 after I accepted a job with the City of Cedar Falls," says Matt. Matt is a Civil Engineer and through his work he is, "able to give back to the community by improving the City in various ways..."
Even in his spare time, Matt can be found making the Cedar Valley better. "Over this past spring semester, I helped with the Cedar Falls High School CAPS (Center for Advanced Professional Studies) design a bioretention cell" he says.
Matt continues, "Living in AZ was a great experience and I don't regret it. However, it's great to be back in the Cedar Valley. We love being back and so do our dogs Nala and Koda. Nala thinks our fenced in backyard with grass is her own personal dog park. We love downtown Cedar Falls and all the activities in the area such as the biking trails, fishing and dog parks. It is also great having family nearby."
"Leslie and I love the quality of life in the Cedar Valley and are excited to see what the future holds! Also, we love our dogs!"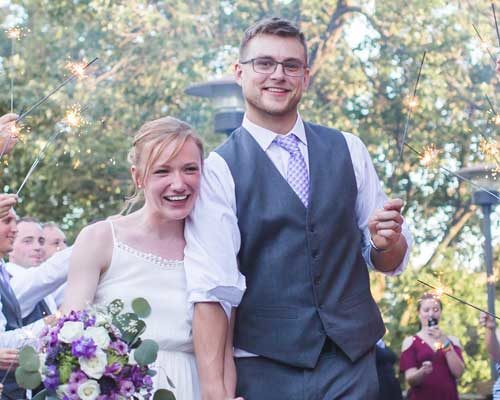 What does a Supply Chain Manager do for a state-of-the-art manufacturer? That can change from one hour to the next at KRYTON Engineered Metals in Cedar Falls. You might find Nick working at his desk, on the shop floor, or in a customer location. "I've been given a lot of freedom in my day-to-day job to research and create new strategies, procedures, and processes to improve operations throughout the entire company." He loves being empowered to try new things. Nick helped create the role that he began during an internship that almost didn't happen: about a year earlier he was unenrolled from the University of Northern Iowa due to poor academic achievement. Ouch. He presented a detailed plan, was granted readmission, and got his act together. In 2016, he graduated from UNI with a Bachelor of Arts in Supply Chain Management. Newlyweds Nick and wife Megan live in Waverly: small enough to see people they know everywhere but with the conveniences of a larger metro.
What do you like here? Share your favorite restaurant, place or activity. We want to hear it all!
Share Your Story