Where to Watch the 2020 Fourth of July Fireworks in the Cedar Valley
Can you believe that it is already the Fourth of July? We sure can't! If you happen to be in the Cedar Valley of Iowa this weekend, we wanted to put together a little guide of the opportunities that communities are providing to celebrate the fourth. We do want to take a moment to thank all active and retired military personnel. It is by your commitment and sacrifice to this country that we are able to celebrate today.
Here are some of the locations with fireworks displays in the Cedar Valley. If you know of one that is not listed, please send an email to livethevalley@gmail.com to have it added!
We do want to note that these locations do have guidelines about how to enjoy the events and respect other attendees. Some communities have designated areas or rules about where attendees can enjoy the show. Please research ahead of time.
3rd of July Fireworks Show for Sarah Staebell: July 3 at 6 PM
From the event Facebook page, "Sarah has been diagnosed with Stage 4 colon cancer. She is the most selfless and generous person.
She has started chemotherapy and will be traveling to Iowa City twice a month for these treatments. Sarah and her husband Tony are self-employed with Staebell Design. We are raising money for Sarah and Tony to help pay for medical expenses.
We are asking for everyone's help spreading the word to raise as much money as we can for Sarah and Tony. Please share our link with your family and friends. Donate if you can and join us for a great time Friday, July 3rd."
Fireworks Extravaganza at Waterloo Bucks Stadium: July 4 at 6:35 pm
From the Waterloo Buck's website, "Join us for a fireworks extravaganza after the game. Gates open at 6:00 pm with a first-pitch versus the Mankato MoonDogs at 6:35 pm."
Learn more by visiting the Waterloo Buck's website!
Independence, IA Social Distancing Fireworks: July 4 at 9:45 PM
In a post shared by the Independence Area Chamber of Commerce, "There will be no public parking on the grounds. The area allows for social distancing, ample parking in the surrounding areas, and visibility from a wide area from your vehicles."
Additionally, The Independence Area Chamber of Commerce will provide a live stream on their Facebook page so even if you are not able to enjoy in person, you can still tune in.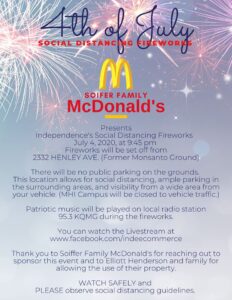 Learn more by visiting the Independence Area Chamber of Commerce website.
Waterloo, IA: Mayors Fireworks, July 4 at 10 PM
If you're looking for a celebration in the heart of the city, then you can't miss this celebration!
Shared in a press release from the City of Waterloo, there will be no main event venue, bands or food vendors due to concerns over the spread of COVID-19. And the city recommends residents to park in the vicinity of the KOA Camp Ground and Lost Island Water Park.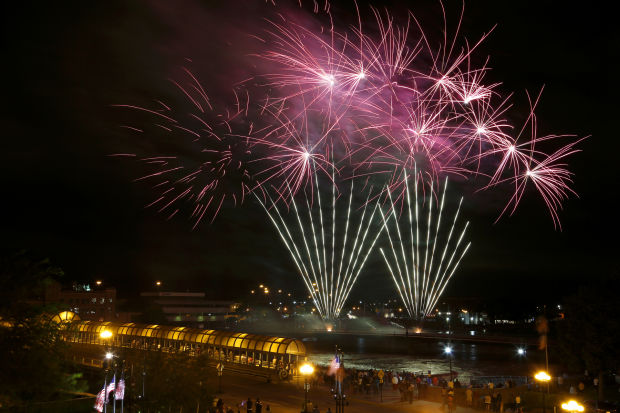 Learn more by visiting Mainstreet Waterloo's website.