Why I Came Back to the Cedar Valley and Started A Business – Dr. Maria Staudt
"I'm so grateful to be back here in the Cedar Valley!
I received my Bachelor's from UNI before attending Palmer College of Chiropractic.  I absolutely loved my time here.  I most enjoyed attending shows at the Gallagher-Bluedorn and spending time with friends in our amazing locally-owned shops and restaurants.  Cup o' Joe in Cedar Falls and LJ's in Waterloo remain two of my favorite hang-out spots.
After Palmer, I practiced in my hometown of Rockford, IA for several years.  While I love my hometown, I missed having access to the shows, festivals, shops, and restaurants that I loved as a UNI student.  I was only an hour away, but it just wasn't the same!  I knew that I wanted to come back to the Valley.
I moved to Waterloo in the spring of 2017 and launched Cedar Valley Mobile Chiropractic a year later in spring 2018.
I've loved every second of it!  We have so many young, active, and busy families in the area.  I exclusively provide house-call chiropractic appointments and feel so lucky to be able to help these families stay healthy and doing what they love.  By offering house-call appointments, I'm able to accommodate my patients' busy schedules and I get to know my patients in a way I couldn't in an office setting.  I am super passionate about helping people unlock their potential for optimal health.  I love what I do and that I get to do it in this community.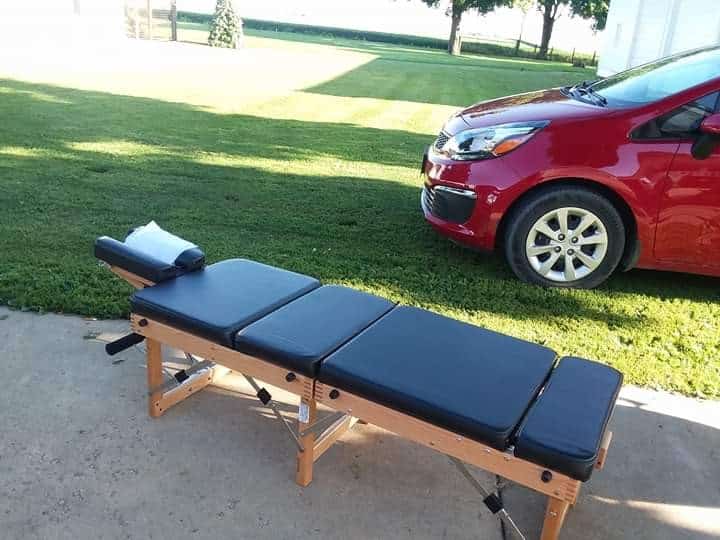 I get asked quite a bit why I decided to move back.  I tell them it's because we are "big enough to have stuff to do, but still small enough to feel like home."  Whether it's with my patients or friends in the community, I enjoy building relationships.  As a doctor, I feel lucky to have relationships with many other healthcare providers.  That benefits my patients because it widens their access to care.  I don't know of many other communities our size that have the variety or caliber of healthcare that we enjoy.  And I get to call lots of these awesome providers my friends!
There are many reasons why I chose to come back to the Cedar Valley and why I love living here. My main reason to "Live the Valley" is helping all the families here achieve and maintain their optimal health so that they can enjoy the highest possible quality of life."
Dr. Maria Staudt owns Cedar Valley Mobile Chiropractic.  Follow them on Facebook or call 319-240-9033 for more information.